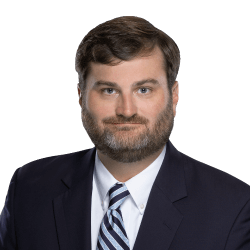 Brett Dixon is a Director in Bennett Thrasher's Disputes Valuation & Forensics practice. He focuses on performing valuations of business entities and intangible assets to assist clients with mergers, acquisitions and dispositions; taxation planning and compliance; financial reporting; and strategic planning.
His specialty areas include business combinations, business valuation consulting, asset impairment testing, tax valuations, buy-/sell-side services, fairness opinions, fresh start accounting and fair value audit support. Brett's specific industry focus is in consumer and industrial products, having performed valuations in the automotive; retail, wholesale and distribution; transportation, hospitality and services; construction, chemicals and technology sectors.
Prior to joining Bennett Thrasher, Brett was a Senior Manager in Deloitte's Risk and Financial Advisory practice where he served as an advisor on decisions related to mergers and acquisitions, litigation and disputes, bankruptcy and reorganization, financial reporting, taxation and strategic planning, and compliance for corporations across multiple industry sectors.
He is a Chartered Financial Analyst (CFA) charterholder and Accredited in Business Valuation (ABV) with the Forensic and Valuation Services (FVS) Section of the American Institute of Certified Public Accountants (AICPA).
[/tb-dynamic-container]