Life can change quickly. If something unexpectedly happens to you, your business could be adversely affected and your day to day operations could come to a complete halt. Business owners must prepare for unexpected events and have a contingency plan for worst-case scenarios. The following situations, known as the 5 Ds, are critical to consider and plan for:
Death
Disability
Divorce
Disagreement
Distress
This graphic illustrates the potential implications if one of the 5 Ds occurs and its possible impact on your business and you.
View the graphic in more detail by clicking on it.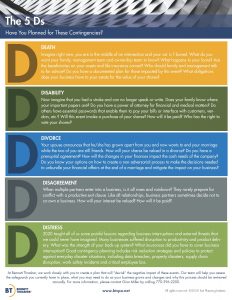 Contact Us
By working with the exit planning professionals at Bennett Thrasher, you can create an action plan for each of these contingencies that helps you be prepared for a worst-case scenario, and help you exit your business on your terms. To learn more about our exit planning solutions, contact Gina Miller by calling 770.396.2200.