Several key calculations can help you determine gaps in your business that may prevent you from meeting your goals. The graphic below explains the three most important gaps that exist for most business owners and shares how to calculate these gaps to determine how to best meet your business and personal goals.
View the graphic in more detail by clicking on it.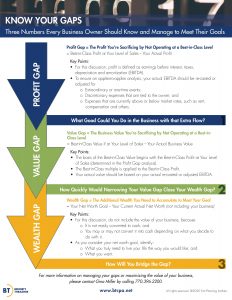 Contact Us
By working with the exit planning professionals at Bennett Thrasher, you can plan to exit your business on your terms and timing. To learn more about our exit planning solutions, contact Gina Miller by calling 770.396.2200.