Bennett Thrasher is proud to be an independent member of Leading Edge Alliance and DFK International. Through these invaluable affiliations, we have the ability to serve our clients throughout the United States and the world.

DFK International is a worldwide association of independent accounting and management consulting firms, with locations in over 40 major markets throughout the United States and representation in over 90 countries worldwide. DFK International is one of the world's major international associations of independent accounting firms and business advisors. Bennett Thrasher's membership is representative of our unceasing commitment to the highest levels of quality in service.
LEARN MORE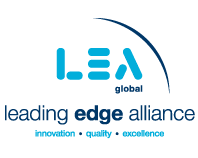 Founded in 1999, LEA Global is the second-largest international association in the world, creating a high-quality alliance of more than 225 firms focused on accounting, financial and business advisory services. LEA Global firms operate from 620 offices in more than 110 countries, giving clients of LEA Global firms access to the knowledge, skills and experience of 2,300 partners and 23,000 staff members. Members stand out as leaders in their markets with firms ranking in the top tiers throughout the world. LEA Global firms' unique alliance enables them to maintain their independence while working together to deliver the ultimate in client service experience. LEA Global firms provide valuable international access and understand the cultural and commercial norms across the globe.
LEARN MORE

"We believe values are everything. You can't have an effective, high-performing firm unless the people agree on the values that they are willing to fight for."

Ken Thrasher

Co-Founding Partner
"I truly believe that if we come in every day with the attitude that we can make something positive happen for our clients and for one another, we will."

Rick Bennett

Co-Founding Partner