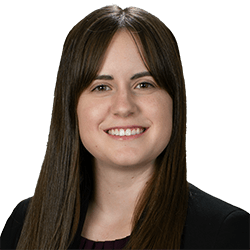 Molly Johnson is a Manager in Bennett Thrasher's International Tax practice. She provides multinational clients with valuable tax compliance and tax planning assistance. She specializes in U.S. inbound and outbound international taxation with experience in areas such as Global Intangible Low Taxed Income (GILTI), Subpart F income, foreign tax credits, Foreign Derived Deduction Eligible Income (FDII) and Base Erosion Anti-Abuse Tax (BEAT). Her industry experience includes international, manufacturing and supply chain, professional services and technology.
Molly began her career at Bennett Thrasher on the Commercial Tax team where she gained extensive experience in domestic tax compliance, international tax compliance and state tax compliance. Her clients included consolidated groups, C and S corporations, partnerships, limited liability companies and individuals. She primarily served small to middle-market privately-held companies in a variety of industries.
Molly is a Certified Public Accountant (CPA) licensed in Georgia.
[/tb-dynamic-container]