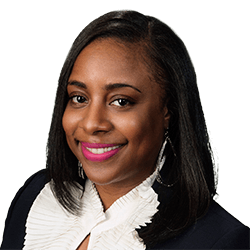 DiAndria "Dee" Green is a Partner in Bennett Thrasher's State and Local Tax (SALT) consulting practice, where she focuses on providing state income/franchise tax consulting, sales/use tax consulting and other state tax services to clients of varying sizes and legal entity types. In this role, she assists clients in reducing their tax liability and effective state tax rates. Additionally, Dee leads the SMART Compliance practice, which assists clients with meeting state sales tax compliance requirements and implementing and managing an automated sales tax software solution.
While at Bennett Thrasher, DiAndria has also advised motion picture studios, television networks, independent film producers and digital entertainment companies across the country on how to pursue, utilize and monetize movie production incentives and film tax credits. Her work primarily consists of educating clients on the law surrounding available state film tax credits and the qualifications required in pursuing those credits. While assisting clients with claiming film tax credits, DiAndria has also analyzed production expenses to determine qualifying expenditures, conducted due diligence reviews and drafted due diligence reports that indicated relevant procedures and findings.
DiAndria has more than 15 years of tax consulting and business development experience. Prior to joining Bennett Thrasher, she worked at Ernst & Young, where she focused on Research & Development (R&D) credit study services, and at PricewaterhouseCoopers in the Washington National Tax Office, where she provided merger and acquisition tax consulting services to public and privately-held corporate clients.
[/tb-dynamic-container]