Choosing the right team to advise you can help you continue to grow your business while working towards your personal goals. An experienced exit planning professional can assist you in developing the right plan for your business and creating a balanced lifestyle by integrating your personal and professional goals.
This graphic explains more about how working with the right exit planning team can provide a winning roadmap – for you, your business and your family.
View the graphic in more detail by clicking on it.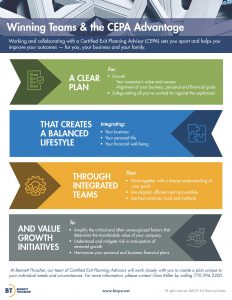 Contact Us
Our professionals can help you plan for an exit on your terms that maximizes the value of your business while meeting your personal goals. To learn more about our exit planning solutions, contact Gina Miller by calling 770.396.2200.